[vc_row][vc_column][vc_column_text]The project methodology was applied in
nine European cities of variable size
starting from relatively small (
Basel
,
Brno
,
Ljubljana, Roskilde
) to mid-size (
Stuttgart
,
Thessaloniki
) to large cities (
Athens
,
Milan
and
Madrid
).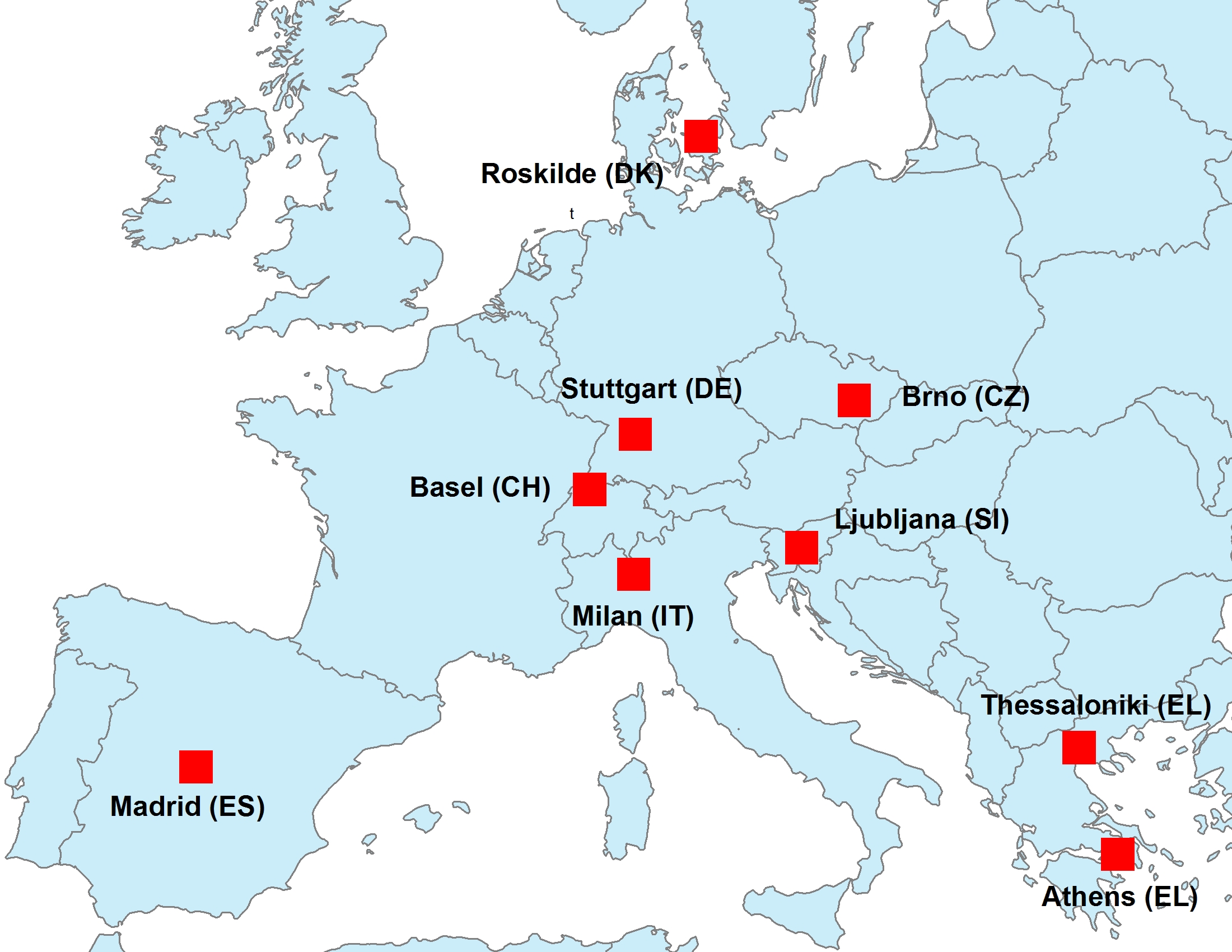 They were selected carefully to represent the mix of urban settings around Europe and cover the whole spectrum of "green urban management". Rich large metropolitan conglomerates, which anyway have enough own resources to establish environmental plans, were avoided in order to ensure that the ICARUS approach captured various, yet realistic intervention scenarios that are relevant for the vast majority (> 80%) of the urban population in the EU. The selection was made also on geo-demographic criteria so that the variable socio-economic dynamics across the EU could be clearly captured and taken into account.
The cities involved cover a wide range of environmental problems as well as of several countermeasures to reduce air pollution and carbon footprint already adopted or planned. Stuttgart, Milan, Athens and Thessaloniki have severe air pollution problems due to high emissions mainly from industrial, transport and domestic heating sectors in some cases worsened by unfavourable climate characteristics (i.e. Milan and Stuttgart). Other cities suffered mainly in the past from heavy air pollution (i.e. Brno and Ljubljana), which in recent years has been partly faced due to effective policy decisions.
All cities involved had already adopted a number of technical and non- technical measures to reduce air pollution and carbon footprint which ranged from energy use reduction by retrofitting to enhance carbon-neutral sources of energy generation and from new low carbon transportation plan to increased energy performance of existing building. These measures were accompanied by other non-technical measures such as widespread low speed limit in the cities, traffic restricted zones, increase of green spaces, new cycle tracks, introduction of fees for transport in restricted areas and ban on certain fuels for heating and cooling purposes. All cities had ambitious plans to bring local government and the local communities together to start implementing a new vision of green city making them appropriate to demonstrate the ICARUS methodology. Some cities took part with the local authorities while others through local academic partners who advised the local government. Common to all the cities was the outstanding environmental consciousness of their decision-makers which provided the ideal framework to establish an active and effective collaboration with city managers responsible for environmental and health management.
[/vc_column_text][vc_single_image image="4624″ img_size="full" alignment="center"][/vc_column][/vc_row]